Receive Weekly
Updates
Right in
Salesforce
Discovery DataLink connects our industry database to Accounts, Contacts and Leads that have a CRD/ID. Once linked, data updates take
place weekly.
Keep Your
Target
Market
Complete
Any firms and reps
we have that meet your Discovery DataLink Audience Criteria and are not already in your CRM will be sent
to Salesforce.
View Profiles in
Discovery
Data from
Salesforce
The Discovery Data
Profile
button takes you directly to a firm's
or rep's full profile in Discovery
Data to provide the most
current information.
Link and
Populate
Records
in One Click
Eliminate manual data entry with the Discovery Data Search button. When a new or updated CRD/ID is applied using this feature data updates populate simultaneously.
Map Discovery Data fields
to Salesforce fields
Your Salesforce Administrator
will map and schedule updates
from Salesforce fields to Discovery Data fields.
Select from a long list of Discovery
Data fields for automatic or user approved updates.
Apply updates automatically, require user acceptance or a combination of both.
Quickly access updates for user acceptance on custom list views.
Review a side-by-side comparison of your data and Discovery Data updates.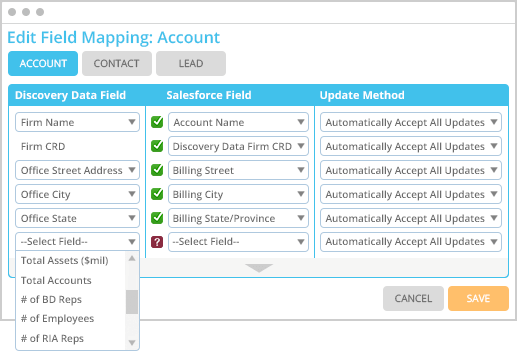 Use a Discovery Data indicator field to
determine which records have updates available

Linked

Updated

Update Available

Inactive

Pending Link

No ID

Not Found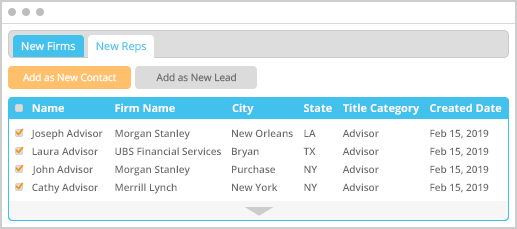 Sit back and relax while we populate
new firms and reps
Discovery Data Audience Criteria allows Salesforce Administrators to populate new firm and rep records in Salesforce. Once your criteria is set any firms and reps Discovery Data has that meet your criteria and are not already linked in your CRM system can be added
to Salesforce.
See more information than
what is in Salesforce
View Discovery Data profiles in
Salesforce with one click.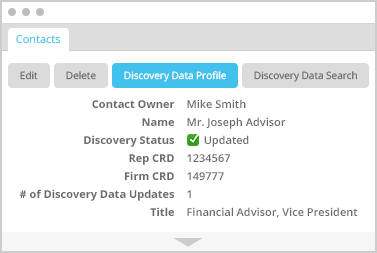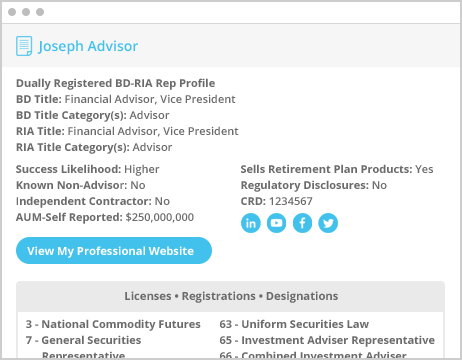 Add or update records to populate data updates
Find firms and reps to update using the Discovery Data Search button.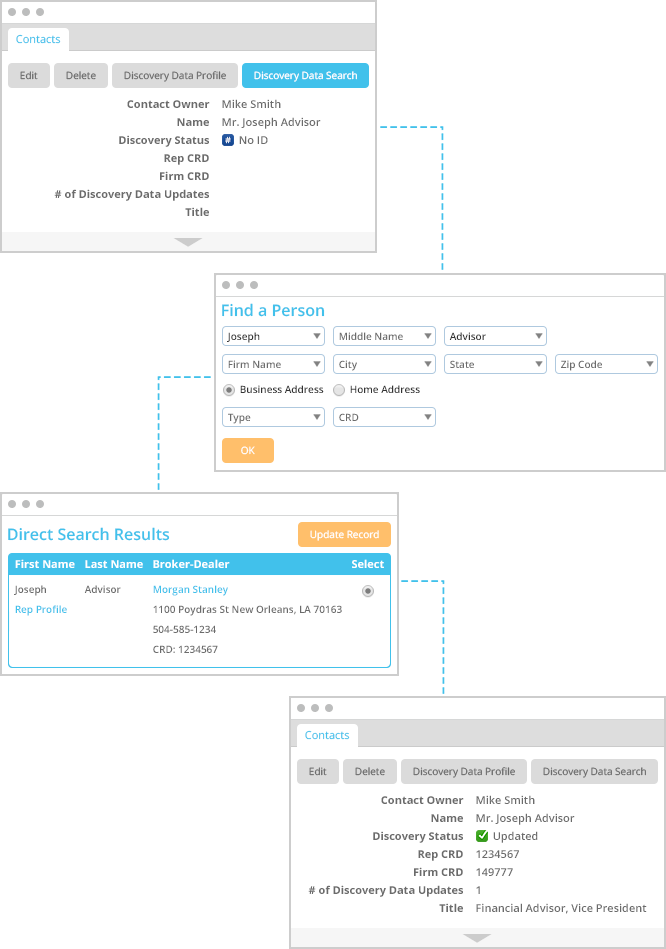 Assist your team in using all app features
with 18 reports and 2 dashboards

Contact us to learn more or request a demo to see the app in action.

Discovery Data has worked with certified Salesforce consulting and development partner Let's Strategize for many years so it is no surprise it is our first and currently only certified Discovery DataLink partner firm. Let's Strategize has helped us with hundreds of client projects and understands our business and the needs of our clients.