Rep Movement Insights
Over 60% of rep movement January through June 2020 was powered by Discovery Data. Our clients are able to dramatically accelerate their recruiting process with access to the most accurate, complete and actionable data on advisors.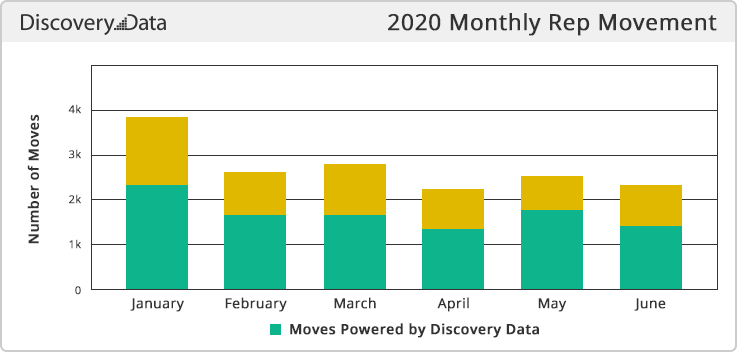 Year-to-date Discovery Data has tracked over 16,000 rep moves from one firm to another, including nearly 9,500 moves since the pandemic was declared in March.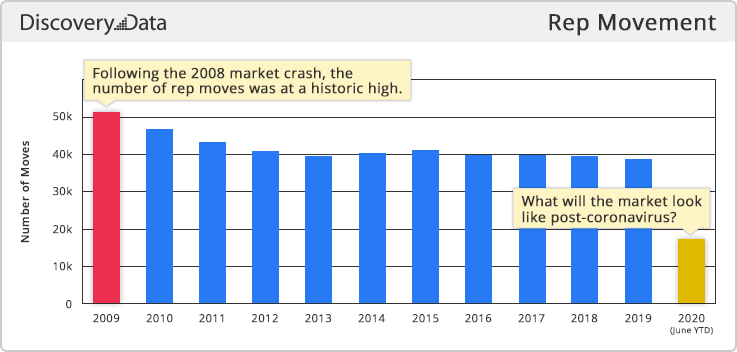 LPL, Merrill Lynch and Pruco are among the firms recruiting the most reps since March.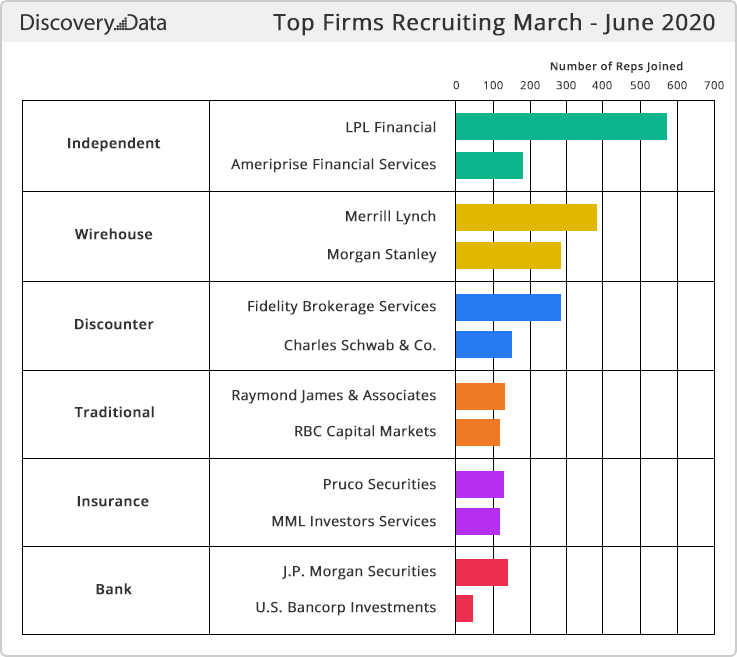 Source: Discovery Data July 2020. Using over a decade of historical information encompassing 100 billion data points, 70,000 firms and 4 million professionals, Discovery Data Insights provides actionable intelligence on the financial services and insurance industries within a simple to use, powerful, cloud-based data platform.
Though we cannot say for certain how rep movement will be affected in a post-coronavirus market, we can focus on what we do know to make informed
decisions now:
Following the 2008 market crash, the number of rep moves was at a
historic high.

Today advisors are more open to taking recruiter calls and interact more frequently with digital marketing.

Recruiters that have the resources to advance their technology and deliver the right messaging will have the best opportunity to connect with advisors and recruit the top talent. These firms will be best positioned to attract the most talent once the coronavirus-related slowdown is over.

The decline in rep movement continued to slow during June, signaling a potential turn in the trend is near.

Are you prepared for the upcoming rebound in rep movement? We can help. Discovery Data's recruiting services increase brand awareness and drive incoming leads through our custom research and analytics and multi-channel marketing programs.